Mid-Hudson Valley Federal Credit Union (MHV) broke ground at the site of our new Peekskill Branch on Tuesday, April 20.
Located at 3 North Broad Street, the new Branch Location will feature teller services, lending services, investment and retirement services and business banking. The location will also boast banking 7 days a week from 8:00 AM – 8:00 PM with our Personal Teller service. This technology allows members to conduct banking transactions with a teller located in Kingston via video.
The groundbreaking was greeted with enthusiasm by local officials. MHV is the first credit union to serve the Peekskill community and has already brought bilingual staff on board for the new location. Roger Campos will serve as Branch Manager and Leo Soriano will work with members interested in home loans, including mortgage and home equity loans or lines of credit.
"We are thrilled to celebrate another milestone in our journey towards serving Peekskill with the groundbreaking at our new branch location," says Michael Mattone, former VP of Community Impact at MHV. "Residents and businesses throughout the City of Peekskill will soon be able to conveniently access MHV products and services on the corners of Broad and Park streets, and we are grateful for the support we've received from community leaders as we make this dream of being the city's first credit union a reality."
The Peekskill Branch Location is scheduled for a late 2021 opening.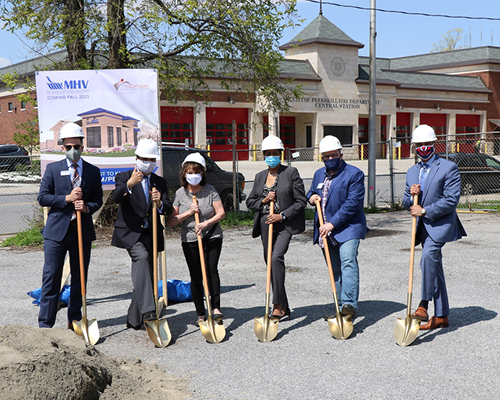 Pictured Left to Right: Christopher Gomez, SVP Chief Retail Officer at MHV; Tito Davila, Community Liaison for State Senator Pete Harckham (NY-40); Deb Milone, President of the Hudson Valley Gateway Chamber of Commerce; Vivian McKenzie, City of Peekskill Deputy Mayor; Brian Fassett, President of the Peekskill Business Improvement District (BID); Dr. David Mauricio, Superintendent of Schools, Peekskill City School District