MHV recently concluded their annual Greater Hudson Valley Toy Drive.
The toy drive, run in partnership with iHeartMedia Hudson Valley and its related radio stations, supports local organizations with toys for their holiday distribution efforts. Throughout the month of December, MHV hosted donation boxes in each of its 13 Branch locations. The drive culminated with an event at the Poughkeepsie Galleria which offered individuals and businesses a final opportunity to donate new, unwrapped toys. Local organizations then came to receive the toys to distribute to Hudson Valley children.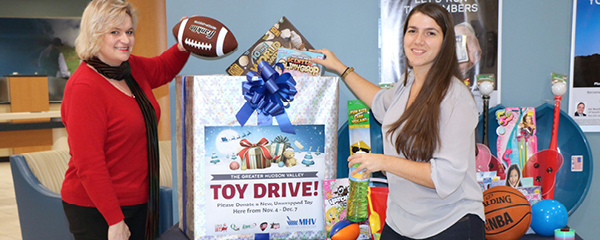 This year, the Greater Hudson Valley Toy Drive received an estimated $15,000 worth of toys. Joe Daly, morning radio personality on Q92, stated that "It was our most successful toy drive ever! We were joined by lots of Santa's helpers, including our very good friends from Mid-Hudson Valley Federal Credit Union; some merry members of the 'Make a Child Smile' program at Greenhaven Correctional Facility; Dennis Vetrano, members of his staff at the Law Office of Dennis R. Vetrano, and their families; and listeners from all over the Hudson Valley. The generosity displayed, the effort made, was all simply breathtaking."
MHV's former Marketing Specialist Caroline Falk was instrumental in coordinating the toy drive and rallying the credit union's staff to participate. "It was extremely gratifying to see all the employees' excitement and participation around the Greater Hudson Valley Toy Drive this year," Falk noted. "They were extremely helpful in raising awareness for the toy drive with friends, family and MHV members."
Daly agreed that this year's event was gratifying. "Literally brought tears to many eyes. These toys will all be distributed by many wonderful local organizations to children right here in the Hudson Valley. Thank you all!"
Photo: Wayne Winkler, President and CEO of Mid-Hudson Valley Federal Credit Union (MHV), is joined by Caroline Falk, former Marketing Specialist at MHV, in making a donation to the Greater Hudson Valley Toy Drive.