Mid-Hudson Valley Federal Credit Union (MHV) is honored to announce that it has been recognized by the Association of Fundraising Professionals (AFP) Mid-Hudson Valley Chapter for its commitment to the communities it serves.
The Leadership in Corporate Philanthropy Award is given to a business with operations in the Mid‐Hudson Valley that has demonstrated the true spirit of philanthropy. The award is part of a series of recognitions that the AFP sponsors in celebration of National Philanthropy Day.
"This recognition is especially important to us because it speaks to our commitment to the communities of the Hudson Valley," says Wayne Winkler, President and CEO of MHV. "As a credit union, it is this philanthropic spirit that defines us."
MHV received this award in recognition of its COVID-19 grants. Throughout April and May of this year, the Credit Union pledged $30,000 to Hudson Valley organizations dedicated to combating food insecurities fueled by the pandemic. Each organization received a $5,000 grant.
Winkler adds, "We are grateful that we were able to quickly respond to one of the area's most pressing needs when the pandemic hit."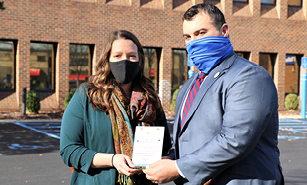 Photo: Sarah Short, former Financial Education Specialist at MHV, and Michael Mattone, former VP of Community Impact at MHV, hold the Leadership in Corporate Philanthropy Award.