What do the experts say I should know about buying a house?
You're ready to make the jump! Buying a house is exciting…and kind of terrifying. What would mortgage experts tell you as you start the journey? We talked to them for you. Here's some advice straight from our mortgage originators.
Build Your Dream Team
You're going to work with several people throughout the mortgage process. So be sure you are comfortable with – and confident in – your team.

A mortgage officer or mortgage originator is the person who will work with you to identify the best mortgage product for you and help you get your application submitted. These individuals are licensed to discuss and suggest mortgage products. You don't have to work with the first mortgage officer you speak to. Take your time to find one that you'd be happy to partner with. And be aware of any mortgage officer asking for an upfront fee. They are paid by the lending company.

A realtor is licensed to transact in real estate. Essentially, they are certified to buy and sell homes. Working with a realtor takes away a lot of the stress of searching through listings and setting up showings yourself. Realtors can also offer guidance on which neighborhoods might better suit your needs. Perhaps most importantly, they are skilled at negotiation. Having a realtor navigate the back-and-forth that often comes with buying a house makes the process much easier to handle.
Get a realtor's inside tips on buying a home. Tune into this 13-minute podcast episode to hear from a realtor from the Murphy Realty Group.
Listen to the Episode
Home inspectors perform a thorough check on the house you'd like to purchase. The inspection is important – it saves you from potentially expensive repairs after you buy the house. Inspectors will look at things like:
The heating, ventilation and cooling system. They'll check to make sure everything is working properly and check for any gas or carbon monoxide leaks.
The electrical system. Typically, inspectors will ensure that nothing is interfering with the electric panel, that circuit breakers are in place, that there are adequate amps, and the quality of the wiring itself.
The plumbing. Inspectors will check any pipes, showers, sinks and toilets to make sure water is running through the pipes properly.
The attic. The insulation in the attic will be key to efficient heating and cooling. Inspectors will check for that as well as any water damage.
The roof. Roof repairs are costly, so the inspector will check for missing shingles, clogged gutters or warped roofing.
The house itself. Walls, ceilings and floors can hide signs of mold or water damage. Home inspectors will check for this as well as any structural concerns. They check that each room has functioning doors and windows and is up to code.
The basement. Another hiding place for things like water damage, the basement will be inspected for mold, mildew, and uneven or warped flooring.
Get your guide to homeownership. This free download takes you from calculating how much you can afford to making an offer. Get My Guide
Attorneys are required for home purchases in New York. Your attorney will negotiate the final sale and represent you at the closing. Your attorney will work with the seller's attorney to draft, negotiate and finalize the sale contract. The negotiation can include an additional rider requesting concessions from the seller. Your attorney may also handle certain aspects of the closing like ordering a title search on the house and coordinating the paperwork and amount of money you'll need for the closing.
Prepare Your Money
You already know that buying a house is probably the biggest financial decision of your life. So…how do you get your money ready for that? What's your financial situation going to be like after the purchase?



One of the best ways to get money-ready? Start making your mortgage payments now. Here's how:
Set up a second savings account.
Deposit your anticipated mortgage payment into that account for 6 months straight.
Or, if you're already making a housing payment, deposit the difference between your anticipated mortgage payment and your current housing payment.
Six months feels like a long time. But here's what's happening: you're testing your ability to comfortably make your mortgage payment each month. And you're building up savings that can be used for a down payment or closing costs.


Don't panic if it feels like a home is out of reach. There are many programs - especially for first-time-home-buyers - that will make it more affordable. Check this list of programs available right here at MHV.


Get Pre-Qualified
In some housing markets, sellers won't even consider you if you're not already pre-qualified. A pre-qualification assures sellers that you can purchase the home. When you get pre-qualified for your mortgage, your lender is essentially saying that yes, barring any changes to your credit or financial picture, they will approve you for a mortgage. It lets sellers know that you're serious and ready to buy.

To get pre-qualified, you'll work with a mortgage originator to figure out which mortgage is right for you. There are several types of mortgages, and your mortgage originator will help you determine if you want a fixed or variable rate and what term – or length of mortgage – works best for you. Once you're pre-qualified, you'll typically receive a letter indicating how much you're pre-qualified for.


The right mortgage is as important as the right home
A mortgage is a mortgage, right? Not exactly. Not only do you need to decide between a fixed or variable rate mortgage, you need to think about the term, or length of the mortgage. And beyond that, there are different mortgage programs like FHA, VA, SONYMA. Lots of acronyms for a lot of different programs.




This is a big commitment. And you don't want to just pick one because it sounds good. Work with your mortgage originator to understand the ins and outs of each mortgage type. For example, while the low initial rate of an adjustable-rate mortgage sounds appealing now, what does it mean for you in 10 years?


Walk through the homebuying process with the experts. In this recorded webinar, Denise Quinn, an MHV Mortgage Expert, is joined by realtor Katheryn DeClerk to help you get more familiar – and comfortable – with what happens when you buy a house.
Watch the Recording


It's OK to feel overwhelmed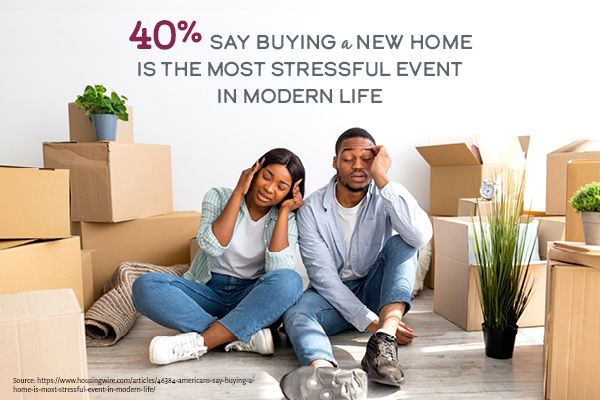 Buying a house is going to be one of the most stressful things you do. And it's OK to feel overwhelmed. But you shouldn't try to go it alone. Reach out to the people you've chosen to work with for guidance and reassurance when you need it.




The process will likely not go as fast as you'd like. Nor as smooth as you imagined. On average, you can expect the entire journey to take 50-60 days…more if the housing market is hot. And that's why it's so important to work with a realtor, mortgage originator, and lender you can lean on.
Other articles you may be interested in
What can you do with the equity in your home? Find out how to use it, which is better, and how to qualify for either.



Couple asking questions

Home

Before you even start hunting for your dream house, there are important questions you need to get the answers to. What are the tax implications of buying a home? What if I don't have a down payment? Can I actually afford to own a home?

Couple refinancing their home for projects

Home

One of the biggest advantages to owning your home is the ability to tap into the equity you build, or the amount of your house that you've paid off. When you need to access that equity as cash, though, you're faced with a couple of options.