Tips on Buying and Financing a Private Sale
Sometimes you don't find your dream car at the dealership but from a private seller: a friend, neighbor, or even a complete stranger whose advertisement you happened to see. Websites like Craigslist and Facebook offer anyone a chance to buy and sell their cars, and can sometimes be home to great deals. The process can feel a bit intimidating, though, so here are some tips for buying a car from a private seller.
1. Shop smart
If you are buying your car or truck from someone you don't know, there are some risks to be aware of. Fraudsters will often use sites like Craigslist or even eBay to scam unwitting car buyers. Posing as legitimate sellers, fraudsters will "sell" you a car, collect your money but never actually supply you with the vehicle. Other fraud revolves around selling a car with a forged title; you pay the seller, but because the title is forged, you don't actually own the car. Conduct your transactions with the seller in public locations, and never agree to meet the seller at your home address. Locations such as police station or grocery store parking lots are good areas to meet the seller. If you find a car or truck you like, never transfer funds to the seller until you meet and can verify the purchase.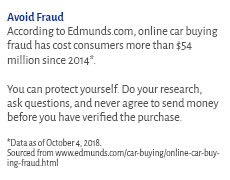 2. Test Drive
Make sure the seller lets you take the car for a test drive. Listen for noises, pay attention to how the car responds to acceleration and braking, even take the car to an empty parking lot to test handling during a hard brake. Do the tires have enough tread? Are the fluids full? Are there any cracks in the windshield or rust spots on the body of the car that will need to be addressed? Sit inside the car and test the radio, heat, air conditioning and any power features to be sure everything is operational. If you know a trusted mechanic, have him or her look at the car's engine. Ask for maintenance records, too, to be sure the car or truck has been properly maintained. You will need to know if the vehicle has been involved in any accidents or floods; reports such as Carfax are good resources to check the car's or truck's accident history. Don't just skim the report, though. Look for things like variations in paint color that may indicate body work has been done. Be sure to have any maintenance issues or concerns addressed before you pay for the car. If you are buying a car from out-of-state and cannot test drive the vehicle, you will definitely want copies of any maintenance records.
3. Get Funding
Yes, you can get a loan for a car you buy from a private seller. In fact, you can usually finance a private sale just as you would a purchase from the dealership with a car or truck loan. Ask your financial institution if they finance private sales, as some may restrict where you can purchase your car. Work with your financial institution to be sure you have all of the paperwork necessary to apply for a car loan for a private purchase. Required paperwork will likely include a Private Sale Agreement, which is your purchase agreement with the seller, a copy of the title, a lien release or payoff letter from the seller, and an insurance binder. The paperwork may need to be notarized. Some financial institutions will provide you with a Private Sale Agreement that you can use and have notaries on staff for your convenience.

Estimate how much your monthly payment will be with our Private Car Sale Calculator
4. Validate your paperwork
Work with your financial institution to be sure that the documentation you receive from the seller is legitimate; documents like car titles can be forged. If you are buying a car or truck from a private seller in another state, you will want to be extra careful in validating and confirming all of the paperwork. Reach out to the Department of Motor Vehicles to have them confirm documents including the title, registration and proof of ownership. Taking the time to be sure all of your paperwork is in order and legitimate could save you from potential fraud.

5. Research the market value
If you are buying a car from a private seller, you are likely asking yourself, "Am I getting a good deal?" Websites like Kelly Blue Book can you help determine whether the asking price of the car or truck is reasonable. You can also use our car-shopping tool to compare a private sale you're interested in with what dealers are asking for similar cars or trucks. You may even find your dream car at the right price!

Buying a car or truck from a private seller can be a positive experience, and may save you some money. Take your time with the process, and be sure the seller answers all of your questions and satisfactorily addresses any concerns you may have.
Other articles you may be interested in
Couple at car dealership

Auto

Buy a car without draining your bank account. Get proven tips and tricks for saving money when you purchase a vehicle, from negotiating with dealerships to choosing the right financing options.

GAP Insurance can help protect you

Auto

When you finance your new or used car or truck, you will probably be asked if you want to purchase GAP Insurance. While you may be hesitant to spend more money, this coverage could prove a smart choice in the event of a car accident.

A lot of car shoppers worry about negotiating with the dealerships. But before you can even think about that, you have to master your test drive.