Rock Your Test Drive
A lot of car shoppers worry about negotiating with the dealerships. But before you can even think about that, you have to master your test drive.

The importance of a test drive is often overlooked because it's easy to get caught up in the excitement of the new car and gloss over any potential issues. Taking the time to do your test drives correctly, though, saves you from potential car-buying regret.


Frequently Asked Questions About Test Drives
Will the dealership check my credit before letting me test drive?
While some dealerships may ask to run your credit prior to a test drive, it is not a requirement. And, if you have already secured financing or plan on paying cash for your vehicle, the dealership doesn't need to know your credit at all.

You may be told that the Patriot Act requires dealerships to run your credit prior to test driving a car. While it is true that the Patriot Act does mandate that dealerships take certain actions, pulling your credit before a test drive is not one of them.
Which is better: buying a new car or buying a used car? Watch this quick video for the pros and cons of each.
Watch Now
How long can I drive the car?
While there is no set amount of time you should drive a car you're interested in purchasing, you should drive it long enough to experience a variety of driving surfaces, speeds, and braking/acceleration. Consumer Reports1 recommends test-driving a car for at least 30 minutes.

You can ask the salesperson if you can take your own route rather than his or her predetermined one, although many are hesitant to do so for safety reasons. Be sure to have a route planned in advance that includes some potholes, stop-and-go, and the need to accelerate.
How many cars should I test drive?
You will want to test more than one car. Even if you think you've found your absolute dream car, test drive a few more. Why? We tend to compare the cars we test drive to the car we currently own. Doing so almost always makes the test drive vehicle seem superior. By giving yourself the opportunity to test drive several vehicles – and making the conscious decision to compare them to one another and not your current vehicle – you allow yourself a more objective appraisal of those cars.
Test drive more than one car and compare them to each other, not your current car.
It's also a good idea to avoid going right into negotiations after a test drive. Give yourself a chance to reflect on all of the cars you drove and analyze each one to determine which, if any, is the best fit.

What happens if I crash during a test drive?
Accidents during a test drive do happen, and the repercussions depend in large part on whether or not you were responsible for the accident. Dealerships will typically have what is known as fleet insurance, meaning all of their vehicles are covered in one policy. This also means that when you test drive a vehicle, you are covered as a driver under that fleet policy. This insurance will typically cover damages resulting from a test-drive accident.

If the damage is very minor, the dealership may opt to absorb any associated costs.

If you are found at fault for the accident, however, both the dealership and any other parties involved can pursue a claim against you. In this case, your own liability insurance will kick in just as it would if you had caused an accident in your own vehicle.
Test driving a car can be nerve-wracking. Check out these tips to help you feel more comfortable.





What Should I Look for During a Test Drive?
Test-driving nerves aside, it can be exciting to get in the driver's seat of your potential new car. So exciting, in fact, that you overlook potential trouble spots during the drive. It is so important to tune in throughout your test drive so that you can pick up on any issues or quirks that will end up making you unhappy.
Get your free Drive Away Happy eBook to guide you throughout the entire car-buying journey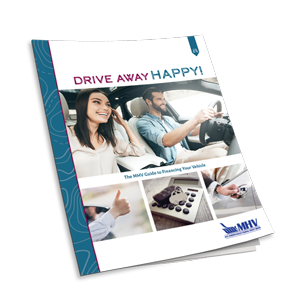 Be sure to pay attention to these while test driving
Mirrors + Visibility. Whether you're buying new or used, make sure the mirror adjustments work and that you can easily set them for optimized visibility.

Comfort. Take your car for a test drive over potholes and speedbumps. How's the suspension? Could you comfortably sit in the seat for extended periods of time?

Acceleration. Without driving like a race car driver, you will want to check the acceleration. Does the car go when you need it to go?

Climbing hills. Even if the acceleration is spot on, see how the vehicle performs going uphill. Are you able to accelerate uphill? Is the powertrain and transmission keeping up?

Braking. When you safely can, test the braking. Try both soft and forceful braking to see how the car responds in both situations. Keep in mind that braking in hybrid and electric cars will feel different. And always warn the salesperson driving with you before you test the brakes!

Steering + Handling. Is it easy and comfortable to steer? Does it feel like you really have to work to make tight turns? When you safely can, perform some quick maneuvers to get a feel for how the car will respond.

Noise. Don't dismiss minor noises, either engine noises or vibrations. Noise almost never gets better with time and often gets worse. What may sound like a slight annoyance now could end up making the car altogether unpleasant to drive in the future.
Download
your Test Drive Checklist!
The test drive is a critical step in buying a new car. Take the time to master your test drives and you'll be one step closer to getting behind the wheel of a car you love.

Ready to Apply for a Car Loan?
Other articles you may be interested in
Couple at car dealership

Auto

Buy a car without draining your bank account. Get proven tips and tricks for saving money when you purchase a vehicle, from negotiating with dealerships to choosing the right financing options.

GAP Insurance can help protect you

Auto

When you finance your new or used car or truck, you will probably be asked if you want to purchase GAP Insurance. While you may be hesitant to spend more money, this coverage could prove a smart choice in the event of a car accident.

women fastening seatbelt in car

Auto

Refinancing an existing car loan is one way to save some money and lower your debt. We've rounded up the top four things to consider before talking to your bank or credit union about a refi.