The Most Important Questions Every New Homebuyer Should Ask
Before you even start hunting for your dream house, there are important questions you need to get the answers to. What are the tax implications of buying a home? What if I don't have a down payment? Can I actually afford to own a home?

We're breaking down the most important questions you should be asking both before and during your search.


What Questions Should I Ask Before I Start Looking for a House?
Where do I start?
Before getting caught up in the excitement of your first home, crunch some numbers. It's going to be critical that you:
Determine if you can afford a home,

Figure out how much home you can afford, and

Make sure you can continue saving money if you buy.



How do I know if I can afford a house?
It's time to get down and dirty with your finances and figure out if you can afford a home. Take a good look at your budget. Are you living paycheck-to-paycheck? Are you spending a lot on non-essentials like eating out or vacations? How much are you funneling into your savings?
You know you should be budgeting, right? Catch this recorded webinar on how to get started.
Watch Now.
If your cash flow is already restricted and you're finding yourself stretching dollars between paychecks, you should address that before starting your house hunt. Start by focusing on your debt and revamping your budget to start allocating more cash towards paying down debt and less cash on non-essentials. This will help make you financially stronger – and in a better position to buy a home. Cut expenses like subscriptions (including makeup boxes, clothing boxes, etc.), unused memberships, expensive data plans, and movie/music streaming services and start funneling that money towards your debt.

Look for these non-essentials and cut them from your budget. Funnel that cash towards paying down debt to put yourself in a better home-buying position.




How much house can I buy?
Once you've nailed down your budget and determined if buying a home is in your near future, you can shift your focus to calculating how much home you can afford. The biggest thing to keep in mind? You have to consider more than just your mortgage payment.
Estimate your mortgage payment with our calculator.
Estimating your mortgage payment is important, of course, because you'll need to be able to handle that monthly expense. As a first-time homebuyer, though, it's possible that your lender will require you to establish an escrow account. Essentially, an escrow account is funded by payments you make with your monthly mortgage payment. Your lender then uses the escrow funds to pay your property and school taxes as well as your homeowner's insurance on your behalf.


You can estimate taxes in the neighborhoods you're considering. Real estate sites like Zillow will often provide tax assessment information and, in some cases, past tax amounts. Look at several houses that are for sale in the areas you are interested in to get an idea of what you can expect in terms of taxes.

You can also obtain tax records by contacting the town tax assessor's office or looking on the county website.

Estimating your homeowner's insurance cost can be accomplished by contacting your insurance provider as well as several other providers. Your estimate will be a ballpark figure; the final quote will depend on the loan amount, house style, location, and features, among other things.



Can I maintain my savings if I buy a house?
It's not only important to figure out if you can afford a house but if you'll be able to maintain a savings account after your purchase. Look at your estimated mortgage, tax, and insurance payments and compare them to what you're paying for housing now. Is that combined total significantly more? And if so, how do you plan on making up the extra?

While it is tempting to cut your savings allocation in order to comfortably afford your mortgage, doing so sets you up for potential financial hardships down the line. Consider the following hidden expenses first-time homebuyers often overlook:
Emergency repairs (furnace, water heater, roofing)

Unexpected fixes (bad insulation, leaky windows)

To-Dos (landscaping, minor renovations)
You must be able to continue to build your savings, even after purchasing a home. If, after looking at your budget, you realize that you won't be able to, consider looking for a less expensive home or waiting until your budget can better accommodate the purchase.


What Questions Should I Ask When I'm Ready to Buy a House?
Once you've determined that you're financially ready for your first home, there are a new set of considerations for you. From down payments to working with a realtor, here are top questions you should ask when you're ready to buy a house.

What if I don't have a down payment?
It was once a rule of thumb that you should be able to put 20% of the purchase price down when buying your home. There are many programs available today, however, to help first-time homebuyers purchase a home with a much smaller down payment.
A down payment is an initial amount of money that's paid to secure a large purchase, such as a car or house. The amount that is paid towards a down payment is subtracted from the borrowed amount, reducing the monthly payment.

The benefit of putting more money down, of course, is that it lowers the amount of money you have to borrow, thereby reducing the amount of your monthly payments. When you start thinking about a new home, you should make every effort to bolster your down payment savings. Setting up a separate savings account specifically for a down payment – and then automating regular deposits into that account – is a great way to build and monitor your progress.

If you can't save up a significant down payment, be sure to research available home buying programs. Some financial institutions even offer zero money down mortgages. Chat with your lender to see what they offer and which may be the best option for you.
► Check out MHV's home buying programs to get in your first home for less

How long do I plan on staying in my house?
One often-overlooked consideration is your future plans. What are your career goals? Do you plan on starting a family? These are critical questions to ask because they may impact how long you'll stay in your home.

Let's say, for example, your career aspirations require that you be flexible in where you ultimately live. Does it make sense to purchase a home before landing your dream job? Or will you be forced to relocate and try to sell your home? Similarly, if you plan on starting a family, it may not make sense to purchase a home with no yard.

Because purchasing a home is likely going to be the most significant purchase you'll make, you cannot overlook your future plans. If they don't align with buying a home right now, it may be financially smarter to hold off on purchasing.
Download your free Your Journey to Home Ownership eBook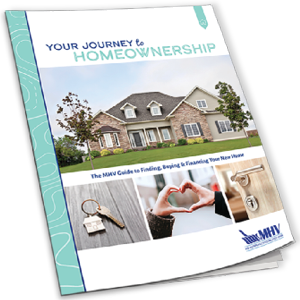 How do I decide where to live?
Naturally, you want a home that checks all the boxes in terms of number of bathrooms, bedrooms, and style. But what else matters when looking for your first home? Here are some other considerations to bear in mind:
Commute. How long will your commute to work be from your new home? How will that impact your finances in terms of gas, tolls, and wear-and-tear on your car?

Noise. Be sure to visit the neighborhood at various days and times. What is the noise level like?

Parks/activities. If you have children or plan on starting a family, are there parks or other activities nearby? Are there other children in the neighborhood?

Schools. Are you children eligible for busing? Or will you need to drive them to school? What about before/after care if you aren't able to get them on or off the bus? Are there any providers nearby?

Taxes. Property taxes can vary even within the same city. Do your research in order to get an idea of the taxes where you're looking.
Kyla Thomas, an associate broker with Hudson Valley-based Murphy Realty Group, stresses the importance of thinking about the future when you're deciding on a home. "I encourage my clients to think about resale value. If there was anything that made you hesitate as you approached the house, future buyers may have that same hesitation," she says. There are a lot of things you can change about a house, Thomas adds, but something like how close it sits to the street isn't fixable.

Do I need a realtor?
While it may not be absolutely necessary to work with a realtor, you should consider partnering with one, especially for your first home purchase. Realtors have access to a wealth of information not just about the home you're looking at, but other houses in the area, the neighborhood in general, and local price points.

Additionally, a realtor can help you with the negotiation process. They are skilled in helping you navigate how to prepare an offer and the potential back-and-forth with the seller. Having the input and guidance of a realtor when assessing homes, such as what to look for, potential issues, and the home's history, can also prove invaluable.

To find a realtor near you, click here.

Knowing what questions to ask – and getting them answered – will be crucial throughout your home-buying journey. Don't hesitate to reach out to your realtor, your lender, and anyone else you work with throughout the process to get the guidance you need.
Ready for a Mortgage?
Other articles you may be interested in
Couple speaking to a mortgage expert

Home

5 insider tips from mortgage officers. Find out what advice they would give you about buying a house. And find out why it's normal to feel overwhelmed.

What can you do with the equity in your home? Find out how to use it, which is better, and how to qualify for either.



Couple refinancing their home for projects

Home

One of the biggest advantages to owning your home is the ability to tap into the equity you build, or the amount of your house that you've paid off. When you need to access that equity as cash, though, you're faced with a couple of options.