Mature couple on computer
Fraud & Security Awareness
Tips and resources to help keep you safe
5 Tips for Protecting Your Information and Money
Be Alert

Many phone and email scams try to get you to share personal information. If you did not initiate the call or the email is from an unknown source or seems suspicious do not provide any information.

Safeguard Your Information

Never share account information or passwords. Be sure to log out after each use. Create strong passwords and change them periodically.

Monitor Your Accounts

Review your bank and credit card statements regularly and request and review your free credit report annually. Set up alerts to notify you of irregular activity.

Protect Your Electronic Device

Make sure your computer, tablet and phone have up-to-date software and antivirus and malware protection.

Take Action

If you notice any suspicious activity, notify us and any other applicable parties as soon as possible.
KEEP YOUR PERSONAL ACCOUNTS SECURE!
Here are some tips and best practices from leading experts and government resources:
Fraud Deep Dives
Ever wonder how specific scams work? You should – the more you know about them, the better you'll be able to protect yourself.
Get the details from fraud prevention expert Charles Broe, VP Asset Protection. He takes you into some of the most common scams, revealing how and why they work.
Protect Yourself From Identity Theft
Download our free guide, "The Basics of Identity Theft", to learn more about identity theft and discover ways to protect your personal and account information.
Download Guide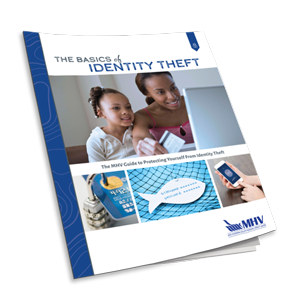 Tech Support/Fraud Department Scams
In this scam, you are contacted by someone via email, phone, pop-ups, etc., claiming to be from:
A tech support company, utility company, or a government affiliate like the IRS, or
A "fraud department"
These scammers will ask you to wire money OR download an app/visit a website so that they can help you. Ignore these requests. They are scams.
Here are some important points to keep in mind:
A fraudster may tell you that they work for your bank or credit union's "fraud department", and you must wire funds to them. This is a

fraud!

Hang up the phone and call your financial institution directly or go to a branch in person.
Any communication from a software or anti-virus company (such as Microsoft) must be initiated by you. They will not call you and ask for money or gift cards, or ask you to send money.
Microsoft does not send unsolicited email messages or make unsolicited phone calls to request personal or financial information or provide technical support.
A legitimate company will never ask that you pay for support in the form of cryptocurrency, gift cards, or a wire transfer.
A fraudster, pretending to be someone who will "help" you, may ask you to download an app or visit a website that is used to remotely access your device (i.e., AnyDesk, TeamViewer, RemotePC, LogMeIn, GoToAssist, etc.).

DO NOT allow anyone

to remotely access your home computer or phone.
Phishing and Smishing
Before the Purchase

Retailers will encourage shopping via email and text, offering discount codes and sale prices.

Fraudsters will use phishing (email) and smishing (SMS/text) tactics to pose as legitimate retailers. Clicking on these links will put your information and money at risk.

After the Purchase

Consumers will start returning purchases, many relying on technology to initiate and track those returns.

Fraudsters will continue to pose as legitimate retailers by sending links to expedite your return, print labels, etc.
Never Click

Never click a link or open an email from senders you don't recognize.

Read

Read each email and text carefully. Is everything spelled correctly? Is it logical? Were you expecting it?

Remember

Remember companies won't text you links to take a survey for money.
PHONE SCAMS
MHV will never ask you for personal information such as your Online Banking login or password.
Callers may "spoof" MHV's phone number so that it will appear on your Caller ID. If you receive a call from MHV's "Fraud Department" claiming your accounts have been locked, hang up and call us directly at (845) 336-4444 or visit your local branch.
Fraudsters may identify themselves as your utility company, claiming services will be disconnected unless you pay immediately. Hang up and contact the company directly.
IRS TAX SCAMS
The IRS does not initiate contact with taxpayers by phone or text messages.
Victims are told they owe money to the IRS, and it must be paid promptly through a gift card or wire transfer. Victims may be threatened with arrest, deportation or suspension of a business or driver's license. This is a fraud. The IRS will never ask for gift cards.
Questions or concerns about fraud? Call us at 845.336.4444 and a Member Service Representative will be happy to help.
Fraud and Security
Be aware to prevent fraud and scams
Current Money Scams You Need To Know About
What are spoofing, phishing, vishing, smishing? From computer takeovers to gift cards, here are some of the most commons scams and how to protect yourself.
Learn More
Fraud and Security
Keep Your Debit Card Secure article photo
Want to Protect Your Debit Card from Fraud?
You want to keep your debit card (and your accounts) safe from fraud, right? Here are some tips you probably won't hear anywhere else.
Learn More