Couple on computer with credit card
Unlock exclusive rewards with the MHV Visa® Signature card.
Get rewarded in 3 simple steps
Spend

Use your MHV Visa® Signature card for everyday purchases.

Earn

Earn 1 point for every $1 spent.
Earn 2x the points on purchases up to $5,000 within the first 90 days.

Redeem

Redeem points for exclusive merchandise, gift cards, or travel experiences!
Enjoy Additional Privileges with your Visa® Signature Card
CU Rewards Mall

Earn bonus points simply by shopping your favorite stores. Unlock bonus points by shopping through the exclusive CU Rewards Mall website at merchants like Kohl's, LL Bean and Glasses USA.

Amazon Store

Shop Amazon and use your points to make purchases! No redeeming points necessary. Simply connect to a collection of Amazon items, check the point value, and use your earned points to complete the purchase.

Travel Benefits

Earn points redeemable for travel. Select gift cards from a variety of airlines to suit your travel plans.
Redeem points through the CU Rewards portal
You can redeem points through CURewards.com. Shop anything from electronics, outdoor, jewelry, and so much more! Are you looking to get away? Book travel now to top destinations around the world!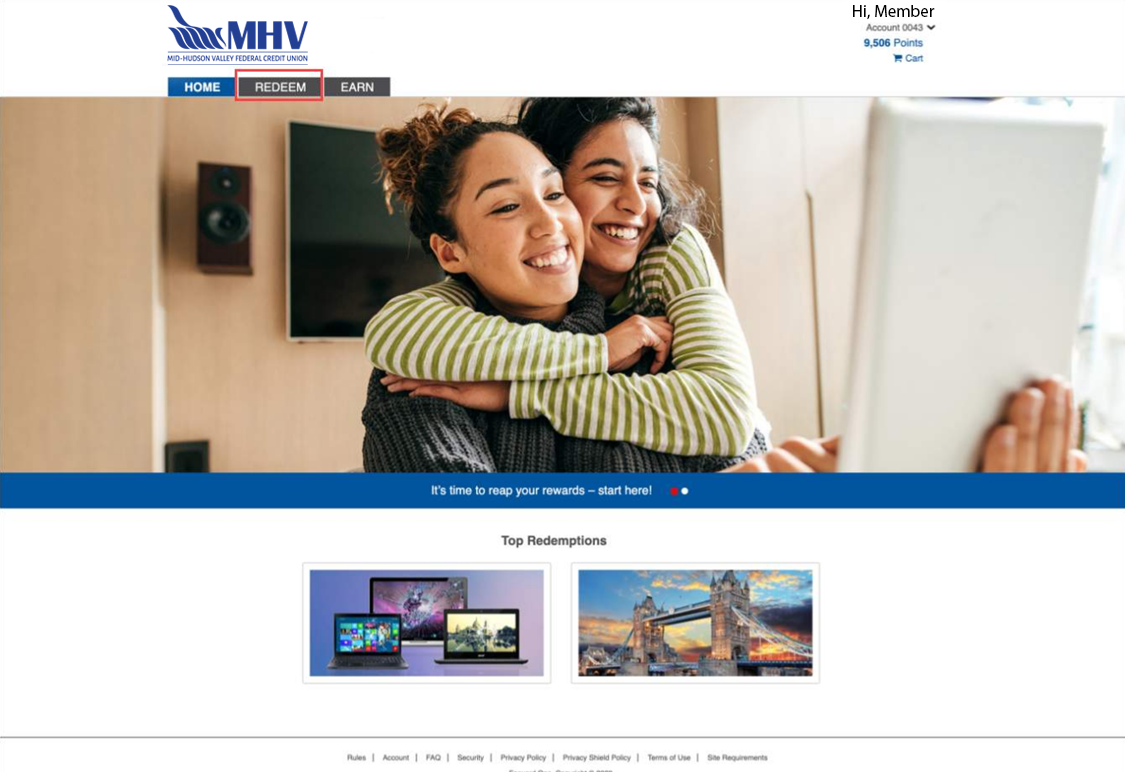 YOU'RE IN WITH VISA'S BONUS BENEFITS
Price Protection (Signature)

If you buy an eligible item with your MHV Visa Signature Rewards Credit Card and find it advertised for less within 60 days of purchase, you can be reimbursed for the difference.

Travel & Emergency Assistance

Put your mind at ease when you are traveling and get help coordinating medical, legal, and travel services when you need them.

Travel Accident Insurance

When you purchase your common carrier (airline, bus, train, cruise ship) tickets with your MHV Visa Credit Card you get accidental death and dismemberment coverage so you can travel with peace of mind.

Trip Cancellation/Trip Interruption (Signature)

If your trips get cut short or cancelled because you, or an eligible family member, get sick or injured, you can be reimbursed for the unused non-refundable portion of the common carrier (airline, bus, train, cruise ship) passenger fare when you pay with your MHV Visa Signature Rewards Credit Card.