Berenstain Bears
Kids Savings Account
Give your child the chance to save and succeed
Secure their financial future today
Where will your child's financial future take them – especially if they start saving today? You can help the children in your life build financial confidence and security with the MHV Cub Account - a savings account specifically designed for kids aged 10 and under. With an opening deposit match of up to $10 and a fun-filled welcome kit, this account is a great way to start kids on a journey of financial responsibility.
MHV is an official sponsor of the Berenstain Bears Financial Literacy Program.
For over 5 years, MHV and the Berenstain Bears have brought financial education to the youth of the Hudson Valley. The fun-loving bear family helps kids learn and understand the concepts of: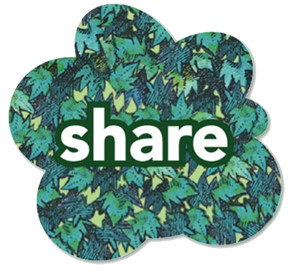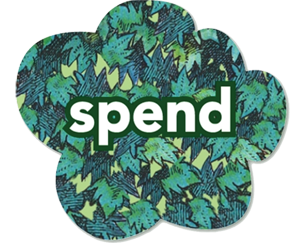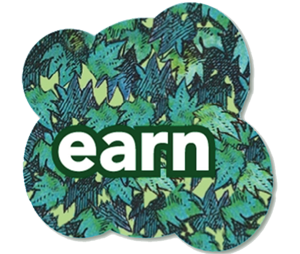 Cub Account Features
A Savings Account for Children 10 & Under
$10 Match

MHV will match your initial deposit up to $10.*

Welcome Bag

You'll receive a special goodie bag to welcome you & to educate you on saving.
Welcome Bag Includes
The Berenstain Bears 'Visit the Credit Union' book

Special Cub Account Membership Card

The Berenstain Bears Bookmark

The Berenstain Bears Coloring Sheets with Crayons

The Berenstain Bears Sticker
Open Your Cub Account In Branch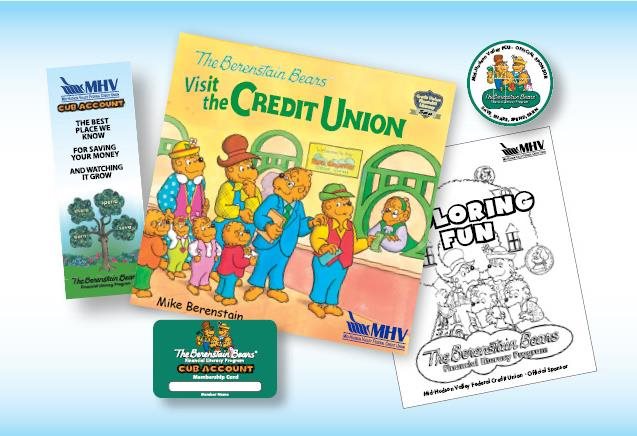 Check out Past Bear Sightings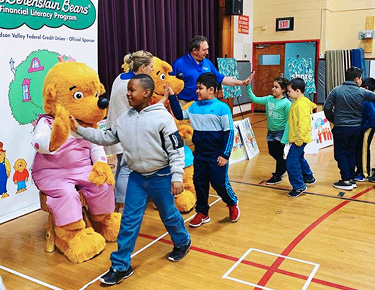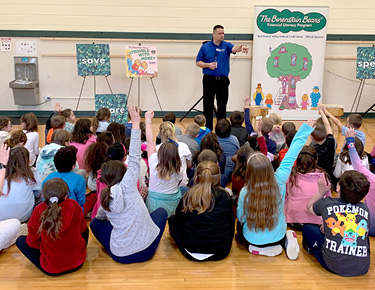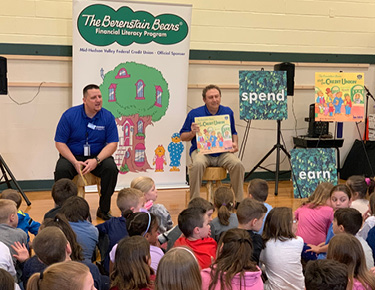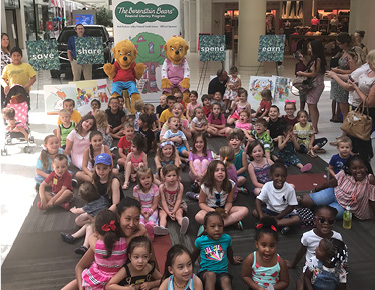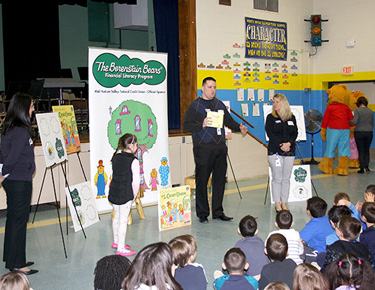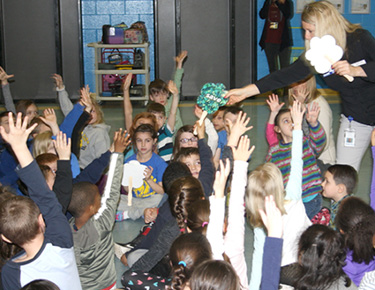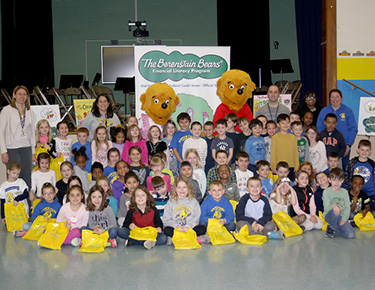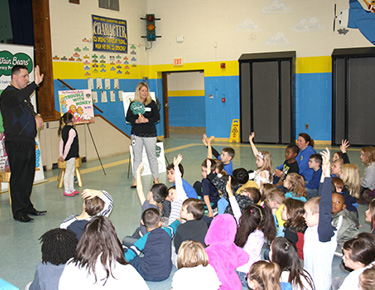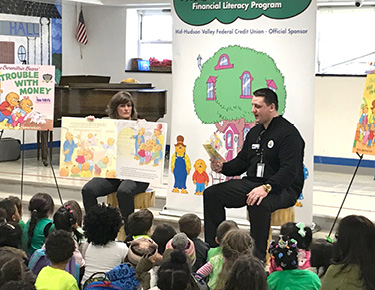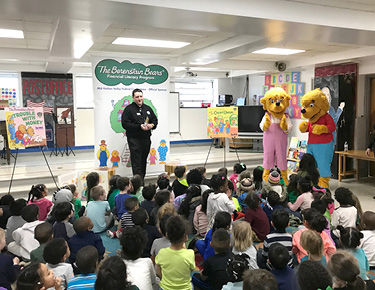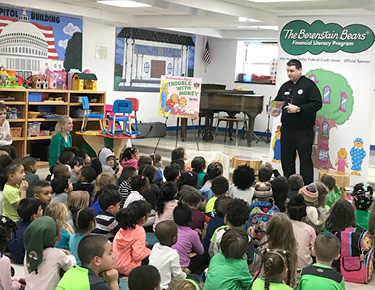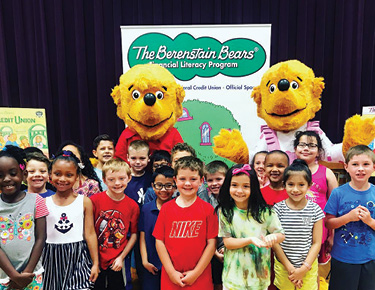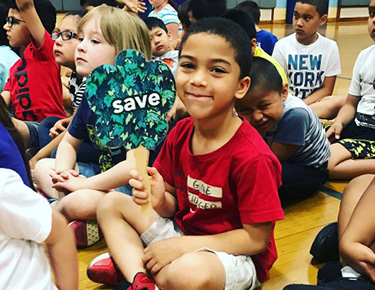 Bring the Berenstain Bears to Your Classroom!
The Berenstain Bears Financial Literacy Program is a no-cost program developed in response to studies documenting
the advantages of teaching fiscal responsibility to children as young as 5-years-old. Our lessons comply with national standards
for Financial Literacy and are most suitable for Kindergarten through 3rd Grade students and include:
Reading

We will read & discuss with students The Berenstain Bears 'Visit the Credit Union'. The students will learn about saving.

Activity

Our activity enhances students' knowledge of spending, saving, earning, and sharing by providing different scenarios.

Meet 'n' Greet

Brother & Sister Bear will make an appearance to say 'hi' to the students.

Special Gifts

Each student receives a gift and more information on The Berenstain Bears Financial Literacy Program at MHV.
See What the Mid-Hudson Valley Has to say About us:
I was able to very easily open a money market account over the phone. The staff made the process quick and easy.

Christine B.

MHV provides the best banking experience I've ever had. They are good all around.

Andres S.
Commonly Asked Questions About kids Savings
Please visit our

Rates

page for our current rates.

The minimum balance required to open a primary Savings Account is $5. There is no low-balance fee, but you must maintain a minimum daily balance of $100 in your share account each day to obtain the disclosed annual percentage yield.

If you're not yet a member of MHV & want to open an account with us, click here. You will need your non-expired U.S. Government-issued Photo ID. Please note: if your photo ID has an alternate address or P.O. Box, please have proof of address (car registration, lease agreement, credit card statement, car insurance ID, etc.) ready to upload upon request.

If you have any questions about the account opening process, please email [email protected] or contact us at 845.336.4444.

Yes, we offer several types of IRAs.

Traditional IRAs:

Tax Deductible depending on your income and individual tax situation.*
Additionally, participation in an employer sponsored retirement plan will affect how much of the IRA is tax deductible.*

Roth IRAs:

Contributions are not tax deductible, but principal and interest accumulate tax free.

Coverdell Education Savings Account (Education IRA):

Tax advantaged savings vehicles for education purposes.
Maximum annual contribution is $2,000.
In addition to college costs, payouts for elementary and secondary school expenses are now available.
Corporations and tax-exempt organizations may also make contributions.
Marriage penalty eliminated on income levels that qualify for the full contribution amount.
Contributions may be made through April 15 for the prior tax year.

Your savings are federally insured to at least $250,000 and backed by the full faith and credit of the United States Government.

To open an IRA, please visit any Branch Location.

*Refer to your tax advisor for more information.

Yes, you can set up an estate account for the purpose of administering a person's estate after they have passed away. For information and documentation requirements, please see our guide

here

.

Yes. You can open either a Savings or Certificate of Deposit as a custodial account.

*Membership in good standing required. To receive $10 bonus, member must open and maintain a new cub account or bonus will be forfeited. Bonus forfeited if member had a previous young savers account within the past 2 years. One bonus per member. Bonus will be deposited in primary share and is subject to IRS reporting. Offer subject to terminate at any time.
The Berenstain Bears® Copyright, Berenstain Enterprises, Inc. 2017.