Can I Really Use My Home's Equity for Anything?
You really can use your home's equity for just about anything. But you need to pick the product – home equity loan or a home equity line of credit (HELOC) – that's right for you…and use it wisely. Let's look at the difference between the products and how you qualify for a home equity product. Then check out how you can use your home's equity to:
Need to go back to the beginning? Check out this article for a deeper dive into what home equity loans and lines are and how they work. I Need That Info
But are home equity loans or lines of credit a better option?
Both a home equity loan and a HELOC are solid options when you need access to cash. You can typically borrow more with a home equity product than a personal loan since it's secured by your home. And if you're weighing a home equity product against your credit card, it's the lower interest rate that will likely catch your eye. Again, since your home is used as collateral, home equity loans and lines will often have a much lower rate than credit cards. And a lower rate means less money spent on interest charges.

The average rate of a 15-year fixed home equity loan compared to the average credit card rate
Determining which is a better option, though, depends on your individual and long-term needs. There are pros and cons to both, so it's important to really look at your whole financial picture before deciding.
Because HELOCs allow you to draw money as needed, you can advance a sum for your expense and still have the line available for future emergencies or large expenses. You only have monthly payments if you use your HELOC, and often those payments are interest-only during the draw period. HELOCs require some discipline; it's important to resist the temptation to use them for miscellaneous expenses.
What's a Draw Period? The draw period on a Home Equity Line of Credit is the timeframe during which you can access the funds. During the draw period, you will not need to make any payments unless you actually access your line, and often those payments are interest-only. Once the draw period is done, you will no longer be able to take advances against your HELOC and you will begin the repayment period.
A Home Equity Loan might be a more attractive option if you simply need a larger lump sum. With this option, you will receive all of the money upfront, allowing you to cover your expense. Because you receive a lump sum, though, be sure to calculate all aspects of your purchase that you will need to cover before applying for your Home Equity Loan. You may want to set up a savings account to keep that money separate and earmarked solely for your purchase.
Get it right from the expert! Sean Dykhouse (NMLS 184229) talks about how to take advantage of your home's equity in this 30-minute recorded webinar. Watch It Now.
Here's how to qualify – and prepare for – a home equity loan or line of credit
Lenders will look, at the very least, at your credit score and your debt-to-income ratio (DTI) before deciding to lend to you. Your credit score is a mathematical analysis of how likely you are to repay your loan on time. Your score factors in things like:
How many loans or credit cards you have
How well you pay your bills on time
How much of your available credit you've used
How old your oldest credit or loan account is.

Here's how your credit score is measured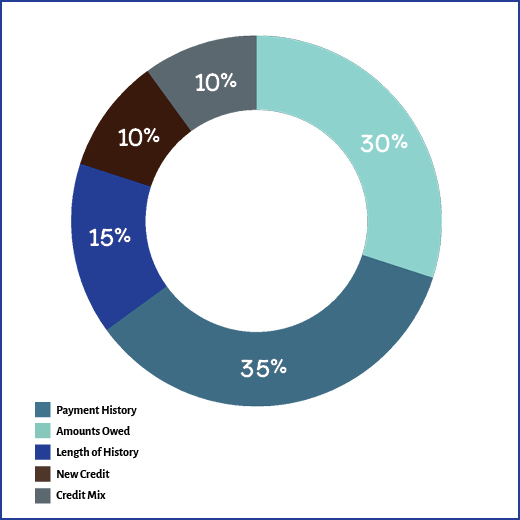 All of these factors are weighted and combined to assign you a score. It is very important to have a good understanding of what your credit score is before you begin the process of applying for a home equity product. If your score isn't high enough, there are steps you can take to work on improving it.
Want to improve your credit? Don't do these things. (find out what they are in this 13-minute podcast episode)

I Want To Improve My Scor

e
DTI measures how much debt you currently have relative to your income. A DTI that is too high suggests you may be spread too financially thin to be able to make the payments on your personal loan. Even if you have a good credit score, a high DTI can cause some lenders to deny your application. Using a monthly budget tool is a great way to manage your finances and keep your debt at a manageable level.
There are a few things you can do to make sure you are as prepared as possible to apply for a home equity loan or line of credit.
Build and protect your credit. One of the most critical factors a financial institution will look at before approving you for a Home Equity Loan or a HELOC is your credit score. The better your score, the more likely you are to be approved at a favorable interest rate. Before you apply, you should get your free credit report and score. Check your credit report – from all three bureaus – thoroughly to ensure there are no errors. If your credit isn't as good as it can be, and you can hold off on making your purchase, you may want to work on improving your score before you apply. Our free guide to Using Credit Wisely offers more tips and guidance for protecting your credit.
Determine how much you can afford. If you are planning to make a major purchase, you'll want to examine your budget to determine what a comfortable monthly payment might be. If your purchase is an emergency one, work with your financial institution to come up with an amount that you can afford.
Shop around. A major purchase is just that, a large financial investment. Research companies who sell what you need, and don't be afraid to ask about discounts. Look for affordable quality; keep in mind that the most expensive option isn't necessarily the best option. If you're facing an emergency purchase, work with the vendor or medical office to come up with a manageable payment plan.
Save time by getting your financial paperwork in order before you apply. Your lender will typically ask for proof of income, homeowner's insurance policy, and tax returns. They will also get a valuation on your property as well as a listing of existing liens on your property (for example, your mortgage).
Using your home's equity for debt consolidation
When you consolidate things, you're essentially making them easier for you to handle, right? Consolidating your weekend errands, for example, means you're going to group errands by location, so you're not ping-ponging around town to get things done.
The same principle applies to debt consolidation.
It may seem counterintuitive to take out a home equity loan or HELOC as a form of debt relief, but there are two primary benefits to consolidating your debt:
Consolidating may help you save money. Home equity loans typically have a lower interest than most credit cards. The lower the interest rate, the less money you are spending on interest charges and the more money you can be saving. More of your monthly payment is going towards the balance. When you make minimum payments on your credit cards, you'll notice that your balance only goes down a tiny amount and there's no certainty as to when your card will be paid off. When you consolidate your debt, you'll know exactly how much of your payment is going towards your balance as well as a defined pay-off date.
Consolidating makes your payments more manageable. If you are consolidating several credit cards or other debts, you are eliminating the hassle of having to spread your money across several bills and, let's face it, remembering to pay them all.
Consolidating higher-rate debt to lower-rate debt saves you money on both your monthly payments and the total amount of interest you'll pay, potentially injecting your budget with much-needed cash.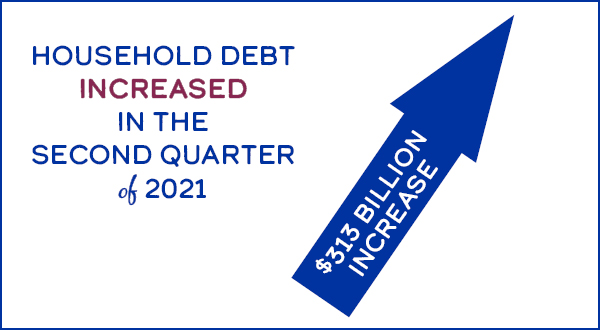 According to CNBC, household debt rose by its highest dollar amount in 14 years during the second quarter of 2021.
When you consolidate your debt with a home equity loan or line of credit, you are taking all those monthly payments and combining them into a single payment each month. You use the money you get from the home equity to pay off your credit cards or other debts, leaving you with one monthly loan payment. A payment that will often be lower than what you were putting towards your cards.
Both a Home Equity Loan and a HELOC are good solutions for debt consolidation. Both options are secured by your home's equity, meaning your interest rate will likely be lower than with a personal loan, which is a form of unsecured credit. Because the goal of debt consolidation is to help you pay off the amounts owed and start saving money, you will want to find the option with the best possible interest rate.
Give yourself a better understanding of how debt consolidation works in this 1.5-minute explainer video.

Watch It Now
After you consolidate debt, it will eventually become very hard to resist using your credit cards. And since debt consolidation often improves your score, you may begin to receive tempting card offers. You must recognize that debt consolidation is only effective if it breaks the cycle of debt. To keep your credit healthy, you can charge a few items per month, but no more than you can afford to pay in full each month. This demonstrates responsible credit card usage, helping your score without racking up debt.
Don't wait until your payments are late to consider debt consolidation. Keep in mind that late payments will impact your credit score and your credit score is a huge component in determining your eligibility for debt consolidation loans.
Using your home's equity for home improvements
You may have smaller projects for which you don't want to tap into your home's equity. For example, if the only project you want to tackle is refacing your kitchen cabinets, a personal loan may be a better option. But for many home improvement or renovation projects, the cost will surpass what you may be able to fund via a personal loan. Rather than turn to high-interest rate credit cards, your home's equity could provide you the financing you need.
If you are planning several projects over a length of time, a HELOC may be a better option for you. Because HELOCs allow you to draw money as needed, you can access your line as your home improvement projects happen without the hassle of paper work every time you need cash. You only have monthly payments if you use your HELOC, and often those payments are interest-only during the draw period. You can also access your line in the event of an emergency, although it's important to resist the temptation to use it for miscellaneous expenses outside of your home renovation projects.
A Home Equity Loan might be a more attractive option if you have a single, large project you are going to work on, such as an addition to your home. With this option, you will receive all of your funds upfront, allowing you to pay for architects, contractors, furnishings and everything else that goes into a large home improvement project. Before applying for your Home Equity Loan, be sure to calculate all of the expenses that will be associated with your project, and build in extra for unexpected costs.
The maximum amount you can borrow with a home improvement loan depends on the loan-to-value (LTV) guidelines at your financial institution. At MHV, you can borrow up to 80% of your home's value. LTV simply states the maximum percentage of your home's value that your financial institution will allow you to borrow and is designed to protect you in the event your home's value decreases. When you're calculating how much you need to borrow, you'll want to shop around to get several quotes from reputable contractors and build a budget that you'll stick to.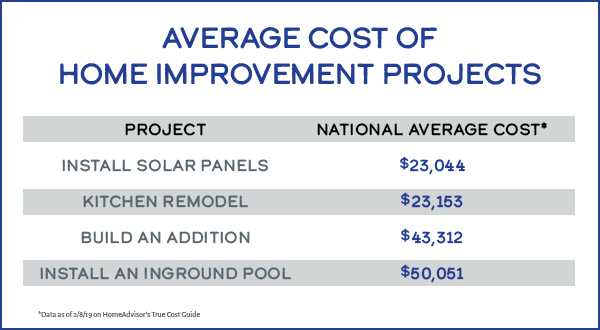 It's important to adjust your budget to be sure you can afford the cost of your home improvement projects. A budget will allow you to see all of your income versus all of your expenses, and allow you to adjust where you may be spending your money. Keep in mind that you don't want to decrease your savings to pay for a Home Equity Loan or Line of Credit. Instead, look for opportunities where you can comfortably cut back on your spending, and determine if your estimated monthly payment will be feasible.
Using your home's equity for education expenses
It's smart to always pursue what is referred to as "free money" first; in other words, look for financing made available via scholarships and grants. Ask the financial aid office, check your local library or do some research online to uncover scholarship and grant opportunities. Federal loans are often the next best bet, as they typically carry lower interest rates. You may also be able to find an on-campus job, either through a work-study program or not, to help defray some of the costs of your education.
Once your free and lower-cost options are exhausted, you may be able to use a home equity loan or line of credit for tuition and other education expenses. The funds can be used for just about anything you'll need to pursue your education, without piling on higher rate credit card debt. Before you apply for your loan, think about all of the expenses involved in your schooling. Do your other funding options cover them all? If not, come up with an amount that you will need to fill that funding gap. Think about costs like:
Books
Housing
Meal plans
Tuition
Fees
Transportation
Paying for college is one of the most overwhelming things families have to do. Get your free guide to college financing to help you navigate the process.

Download My Copy.
Ready to access the cash your home has?
Other articles you may be interested in
Couple speaking to a mortgage expert

Home

5 insider tips from mortgage officers. Find out what advice they would give you about buying a house. And find out why it's normal to feel overwhelmed.

Couple asking questions

Home

Before you even start hunting for your dream house, there are important questions you need to get the answers to. What are the tax implications of buying a home? What if I don't have a down payment? Can I actually afford to own a home?

Couple refinancing their home for projects

Home

One of the biggest advantages to owning your home is the ability to tap into the equity you build, or the amount of your house that you've paid off. When you need to access that equity as cash, though, you're faced with a couple of options.