This is How Little Deposits Can Lead to Big Savings
Ever looked at a savings goal and felt…defeated? Experts tell us to have months' worth of expenses in a Savings Account for emergencies. And while that's the gold standard, it also makes saving money feel out of reach.

Especially if your budget is already stretched pretty thin.

If this sounds familiar, you should consider microsaving.


What is Microsaving and How Does it Work?
Microsaving is exactly what it sounds like: saving money in tiny little pieces. Typical savings goals tend to zero in on the end result – save $5,000 for emergencies, save 20% for a down payment, save half your paycheck. The steps to get to that goal, though, feel more like giant leaps.

But microsaving encourages a fractional approach. It urges taking those apparently insignificant amounts, like your change at the grocery store, and turning them into mini-deposits. While small, the cumulative effect of those mini-deposits could mean a major boost to your savings.

What do we mean by small? We're talking literally the change from the grocery store, extra cash or coins in your wallet, discounts from coupons. These amounts feel tiny, which makes it easy to stash them away. But doing so gets you in the habit of saving and starts building a balance in your Savings Account. And because Savings Accounts earn interest, that balance will continue to grow – giving you a balance you can be proud of.

There are no established rules for microsaving. And that's one of the reasons it works. You choose how to make the strategy work for you, including how much and when to save.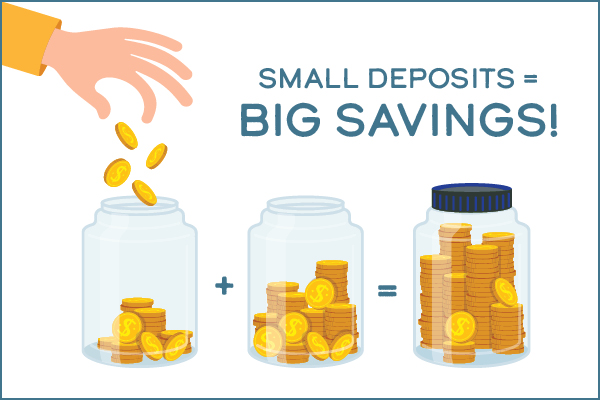 What are the Advantages of Microsaving?
You'll find a lot of advantages to this small-deposit approach to saving, most of which make the idea of saving money more approachable.


1. It makes saving money realistic.

It's a lot easier to get comfortable saving your spare change than to tackle those big goal amounts. You can handle putting away smaller amounts here and there. And if you're living paycheck to paycheck, microsaving can be one of the only feasible ways to start building an emergency fund.
2. It feels less restrictive.

People look at budgets like diets, making them feel restrictive. When you tell yourself you can't do something, it automatically makes it harder to accept. But with this approach, you don't necessarily have to make drastic spending cuts. Instead, you're using opportunities to make incremental deposits to your savings.
3. It builds the habit of saving.

If you just opened your Savings Account, or you've always struggled to find enough money to save, taking this smaller-step path gets you in the habit of putting money away. And once you're used to doing that, it will be easier to make saving money a priority.
4. It's flexible.

Financial guidelines usually come with a hefty dose of "you should" statements, and if you can't meet those "shoulds" you're less likely to stick around to get the benefit. Saving money in tiny amounts, on the other hand, is customizable to you, your current financial picture, how you spend, and what you hope to achieve.


Is Microsaving Right for Me?
Like any financial tool, microsaving isn't a universal solution. You may benefit from it if:
You live paycheck to paycheck. Without extra cash, building up a savings account can be hard. When you commit to small deposits whenever you have extra change or money from a discount, saving becomes a lot more doable.

You have never saved money. Getting in the habit of saving money is the hardest part of saving. Sometimes people jump right in by committing a percentage of their paycheck to savings. That's a great way to start, but if that kind of commitment is going to stop you from saving, starting small should be your first step.

You're not sure how much you can save. Budgets are amazing, but if starting one is the last thing on your to-do list this approach takes the guesswork out of how much to save. Pick the opportunities for small deposits that work for you and focus on those.
Sometimes it takes a slight shift in how we think about saving money to actually get started. This 14-minute podcast episode features MHV's Chief Marketing Officer and how she embraced the concept of saving money. Listen Now


How Do I Get Started with Microsaving?
There's no defined method for getting started. That's one of the reasons microsaving is so approachable. Pick a method or two that work for you and focus on those.
Spare Change: When you get change back from a purchase, dump it into a change jar. When the jar is full, use a coin machine to get a dollar amount. Then deposit that into your Savings Account.

Discounts: If you shop with rewards programs, check your receipt for how much you saved each trip. Transfer that same amount into your Savings Account.

Tiny Transfers: Set up a small automatic transfer each week into your Savings. Start with $5 dollars. Once you adjust your spending to that amount, you can increase the amount of your transfer.

Rounding: Look at your purchases at the end of each week. Round them all up to the nearest dollar and add up the total. Subtract the actual amount you spent from that total and transfer the difference into your Savings Account.

Savings Apps: Manual rounding a little too much work? There are apps available that round up for you. One of the most popular is Acorns, which rounds-up purchases from your MHV Checking Account and deposits them into an Acorn savings. While researching apps, pay attention to any fees and whether your deposit is federally insured.
Imagine where your savings could be within just a year if you start microsaving today.




Other articles you may be interested in
Recent grad taking a photo with family member

Saving and Budgeting

529 Plan or Trust? Which is better for your child's future? Get the definitive breakdown of each savings tool. Find confidence in how you're planning for your children.

4 Things to Avoid During Inflation

Saving and Budgeting

Inflation is scary. But you can navigate it like a pro. Start by avoiding these 4 common money mistakes.

Savings Tips

Saving and Budgeting

Are you missing out on these money-saving tips? Get ideas on how to keep more cash in your wallet – straight from the staff at this credit union.