I want to know the real cost of buying a car
You know the car you want to buy is listed for $25,000.
But is that really how much it's going to cost?
Not likely – the actual amount you end up paying could be significantly more. Here's why:
Your loan term is the amount of time it takes to pay off your loan. Terms can vary from one to five years or more. And while a longer term may reduce a monthly payment, it means you'll be paying more money overall. And you have the interest rate to thank for that.
Lower Monthly Payment or Less Interest Paid?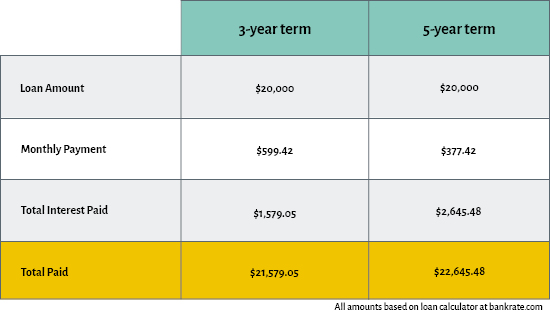 The interest rate is how much your lender is charging you to borrow money. Even if you're leasing the vehicle, you'll be paying interest. And the higher that interest rate, the more your monthly payment is.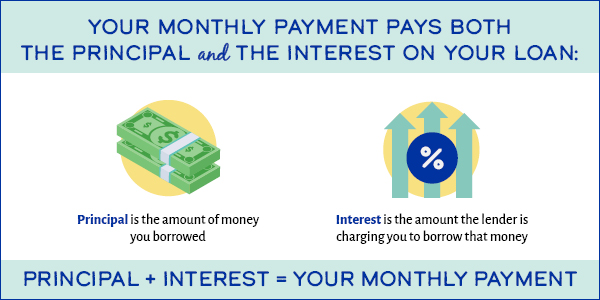 Lenders determine you interest rate by looking at several factors, including:
Your rate and loan term will impact how much you ultimately pay for your car. A high rate and long term could add thousands of dollars to the final cost.
And don't forget the fees. Depending on where you live, you'll be charged sales tax on the car purchase. According to Car and Driver, New York is one of five states with the highest rate of local vehicle sales taxes, with the average across the state being 7.915%.1 That means an additional $1,900 onto the price of a $25,000 vehicle.
You'll need to pay to register the car as well. This chart from the DMV helps break down registration fees.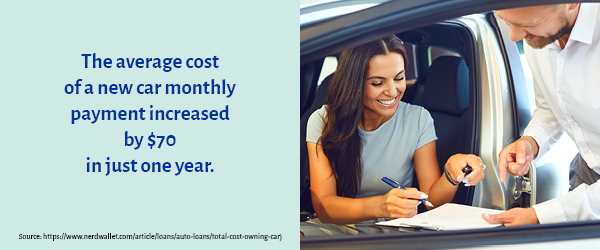 What about insurance? Your premium may go up with a new car because, most likely, your new car is worth more. And you'll need to have insurance in place before you can drive your new car home. Your best bet? Shop around for quotes on the kind of car you want to buy. Then factor the average amount into your monthly payment. This will help you determine if the car will still be affordable.
Of course, you need to factor gas and maintenance into the cost of your new car. If you're jumping from a car with great fuel economy to a heavy-duty truck, you need to consider how much more you'll be paying at the pump. Even if it doesn't seem like a big change, it will impact the affordability of your new vehicle.
According to Autotrader.com, plug-in hybrid models and electric vehicles cost more to purchase, but they are also eligible for national, state and local tax credits. These tax credits, combined with lower operating costs, are designed make a hybrid or electric vehicle as cost-effective to own as a conventional gasoline vehicle.2
Maintenance costs may seem irrelevant if you're buying a new car – but you still need to get regular maintenance like oil changes. Some brands include regular maintenance for a certain period of time on new cars, so when you're comparing car prices, be sure you're comparing apples to apples.
All in all, the true cost of a new car – when you consider interest, gas, insurance, maintenance, and fees – jumps to an average of $10,728 per year…or $894 a month.3
Car Shop with Confidence
Grab this free guide to get the ins and outs of car shopping – including your test drive checklist. Get My Guide
Fastrack your car-buying savings with these tips
That huge jump in the cost of ownership makes it even more important to save money on the purchase. Here's how:
Negotiate like a pro
OK, we know it's probably the last thing you want to do. Maybe it even feels intimidating. But you can and should negotiate with the dealership. And you can do it with confidence. Check out these tips for negotiating like a pro.4
Do your homework. Before you step into a dealership, you should have notes, pricing, quotes, even financing. Your online research should include what competitors are charging and the average transaction price for that make and model. These numbers will give you a ballpark to work with. Try to get a firm understanding of what trim level, features, and add-ons you want. The clearer you are when you walk into the dealership, the more confident you will be in you conversation.
Know your opening bid. Start at the low end of your budget, using the ballpark you've built from your research.
Set ground rules with your salesperson. It's OK to let them know you've done careful research and know exactly what you want. Be clear that you've calculated what you're prepared to pay.
Don't focus on monthly payment – and negotiate only one thing at a time. Start with locking in the vehicle price. Your salesperson may want to discuss monthly payment, but be clear you want to work with the vehicle price. Once you've settled the vehicle price, you can move on to negotiating other elements of the sale.
Be open to what your salesperson has to say while you're still in the shopping phase. They have a lot of experience and may have insights you hadn't considered.
Be assertive, but not aggressive or a bully. Your salesperson is your partner in the negotiation and if you work together you should be able to reach a deal you're both happy with. And while buying a car is a big deal, avoid getting emotional. This can cloud your judgment.
If it's clear you and your salesperson aren't going to come to an agreement, don't waste anyone's time. Thank them and move on.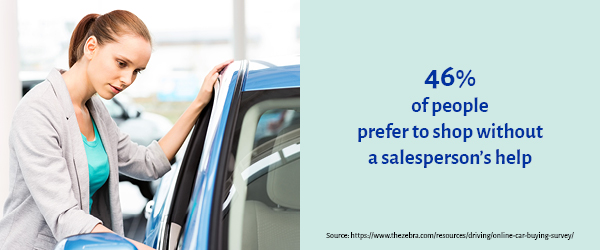 Don't dismiss used vehicles
By the end of 2022, the average cost of buying a used car was 19% cheaper – from $716 per month to $578 per month.3 That difference alone could save you over $1,600 in one year.
Should I buy a new or used car?
This quick video walks you through the pros and cons of both – so you can decide with confidence. Watch It Now
You won't just save on the cost of the vehicle, though. Insurance premiums for new cars are typically more expensive. And dealership fees on used cars will be less, too.
Used cars also depreciate slower. A brand-new car can depreciate about 20% the minute you drive off the lot – plus another 10% in the first year. That's a loss in value of 30% during the initial year of ownership.5 With a used car, the biggest chunk of that depreciation has already happened. And that means your loan-to-value is more stable.
Research your financing options
Yes, you can get financing through the dealership. And if you have excellent credit, you may be able to score a great deal. But…shop around. Explore financing options from local lenders (including banks and credit unions) as they often have competitive rates and great service.
Getting pre-approved for your car loan also makes the shopping experience easier. Not only do you know exactly how much you can afford – keeping your search focused and productive – it gives you a chance to skip that step at the dealership. It may even prompt the salesperson to counter offer with a better deal. Pre-approvals are often valid for several weeks, giving you plenty of time to search dealerships for your next car.
Top off your car-buying confidence with these final tips
Shop towards the end of a quota period, such as the end of the month or quarter.6 Salespeople may be more likely to negotiate a deal if they haven't met their numbers yet.
Pay attention to model years. When a new model starts hitting dealerships, they may want to clear their lot of the prior year's cars. This could be a good time to score a deal.
Avoid going just before closing. You hear this "wisdom" from time to time – that salespeople are eager to go home and will cut a deal. But the fact is, the people you need, like the manager or the finance department, may have already left for the day, leaving your transaction on hold.
Shop insurance before you buy.
Other articles you may be interested in
GAP Insurance can help protect you

Auto

When you finance your new or used car or truck, you will probably be asked if you want to purchase GAP Insurance. While you may be hesitant to spend more money, this coverage could prove a smart choice in the event of a car accident.

A lot of car shoppers worry about negotiating with the dealerships. But before you can even think about that, you have to master your test drive.

women fastening seatbelt in car

Auto

Refinancing an existing car loan is one way to save some money and lower your debt. We've rounded up the top four things to consider before talking to your bank or credit union about a refi.